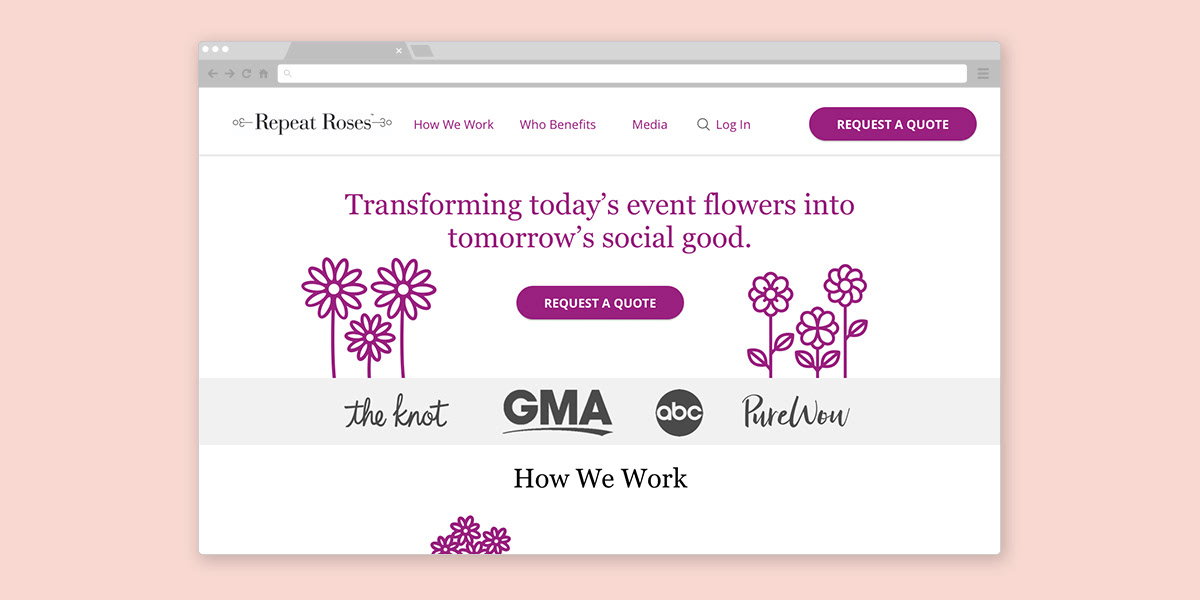 Clients: Repeat Roses
Team:
Kathleen Tucker
, Manoj Vasudevan,
Sarah White
My role: UX/UI Designer
Tools: Google Suite, Sketch & Invision
Duration: 7 Week-long sprints
Background
Repeat Roses is a social impact-meets-sustainability service (a social business). The organization charges corporate event and wedding event hosts a service fee to remove, restyle and distribute their event florals to those in the community who will benefit most from the emotional health boost that flowers provide. After the event, Repeat Roses recollects the flowers and containers for composting and recycling in order to divert all of the event floral waste from winding up in the landfill. 


Problems 
Accessibility: "Request a quote" CTO is hidden and the sign up process is long and tedious.
Information overload
Communications: Customers do not understand what kind of business Repeat Roses is, why there is a service fee, and what is their process. ​​​​​​​


Process
Research: Stakeholders Interview, User Interviews, Competitive/ Comparative Analysis and Card Sorting.
Analysis: Personas, User Flow, and Journey mapping
Ideation & Design: Sketches, Low-fidelity wireframes, and Hi-fidelity prototypes.
Validation: Usability testing
Business goals
1. Being more effective in convincing prospective clients to use the service and provide a better user experience in the discovery, learning, and engagement stages for the clients. 
2. Design an effective way for the client (brides) to learn about the service, requesting quotes, communicate with the company, get onboarded and register / create account, and pay for the service.


User goals
Brides need to be able to visit website and easily learn about the Repeat Roses service experience, the full process, pricing, benefits, etc. They should also have a clear opportunity and easy way to request an online quote and schedule a call with a salesperson. They need to be able to easily register and create an account.​​​​​​​
1. Learn how Repeat Roses business achieve environmental sustainability and social impact goals and how RR can help the user achieve the same.
2. To better understand all aspect of the service ( Fee, process, & timeline of the service)
3. Request a quote and be clear about the follow up communication by Repeat Roses successfully
4. Create an account on the site successfully
5. Spend as little time/energy as possible in the whole process.
​​​​​​​Research
1. Business stakeholder interview to understand the business goals & wedding industry research.
2. Review of top customer service issues for insights into the current pain points.
3. User Interviews with usability study and card sorting to understand user goals, usability of the current website and potential new information architecture (9 users interviewed in total (4 brides, 3 recently married women, 2 grooms).
4. Competitor analysis to understand how competitors communicate their value proposition
5. Comparative analysis of websites for inspiration on how to communicate social impact & quote animations.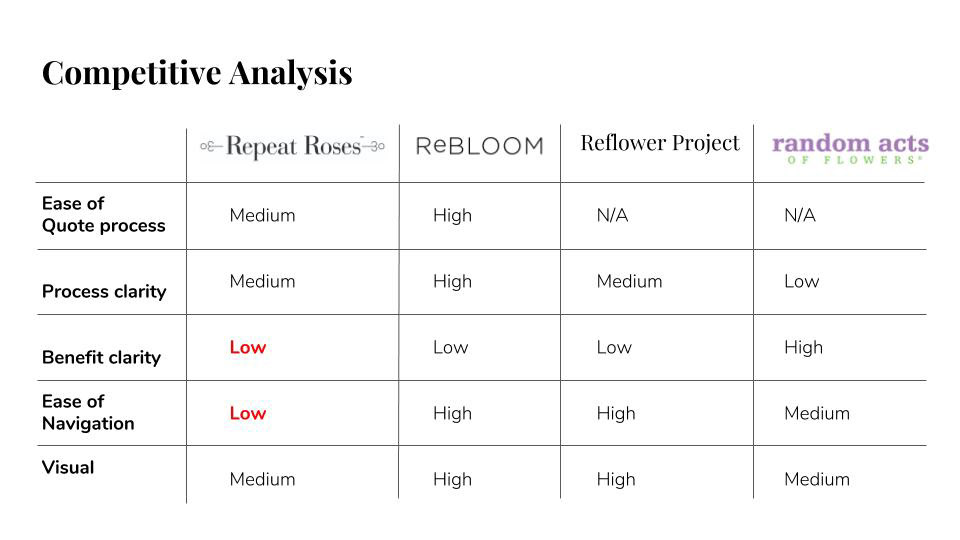 Personas
We create 2 personas based on our user interviews.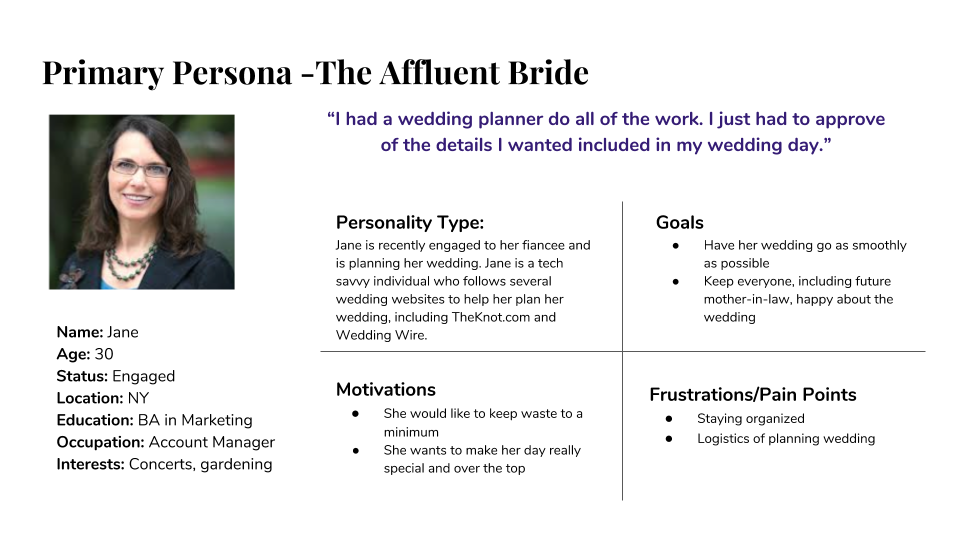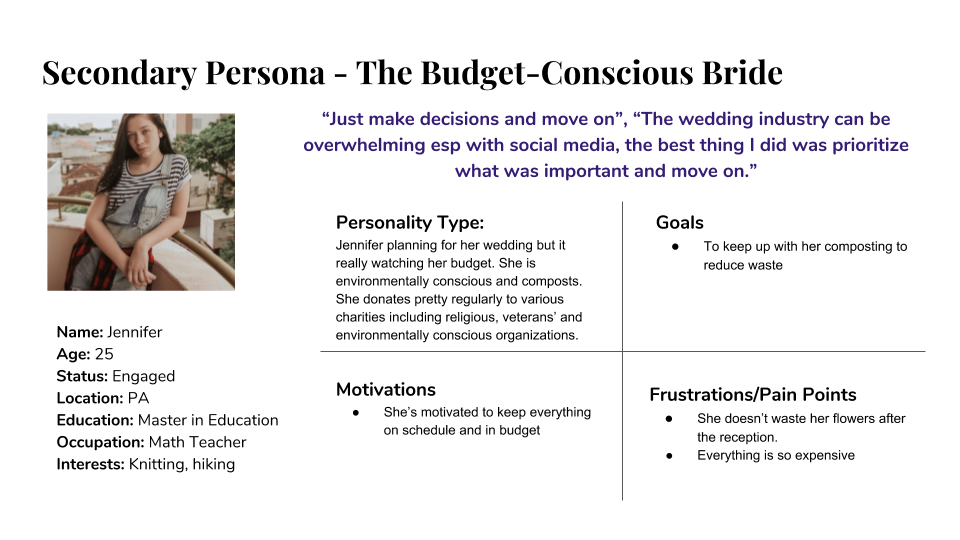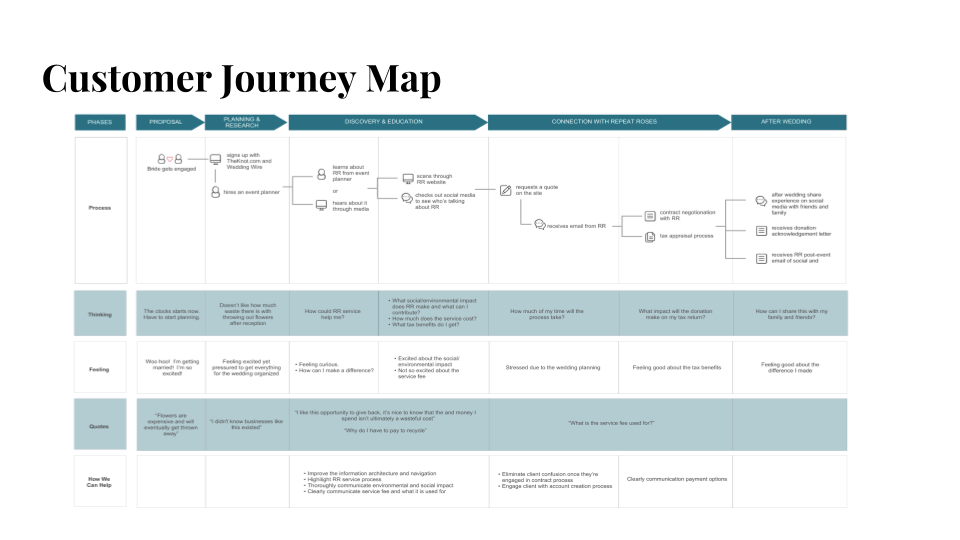 Usability tests on the current website

Card sorting Result
Based on the results of usability test, we found that users are confused and had trouble understanding the words used on the navigation. And from our card sorting sessions, we found that users used words such as "About", "FAQ", "How we work".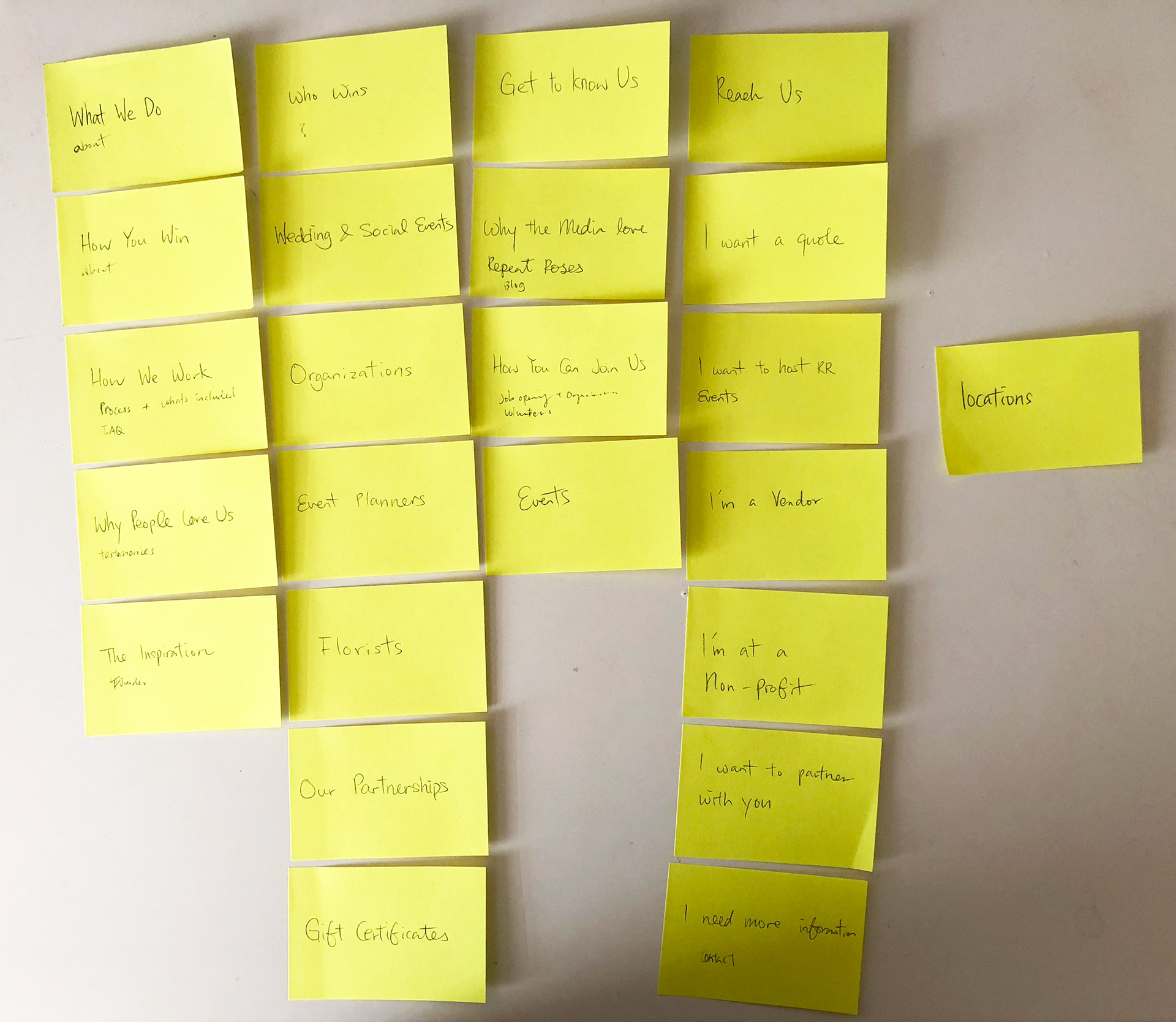 What users say:
1. All Responded positively to Repeat Roses's environmental and social impact missions
2. Some mistook the service for a charity
1. Most thought the website had information overload.
2. Some don't understand where the flowers are donated.
On getting a service quote
Some thought the service quote process was vague.
1. Don't think there is a service fee.
2. Don't understand why they had to pay.
3. Drop off the site because the service is too expensive.​​​​​​​
Flow Chart
Before getting into sketches and wireframes, we need to establish the ideal user flows for the user.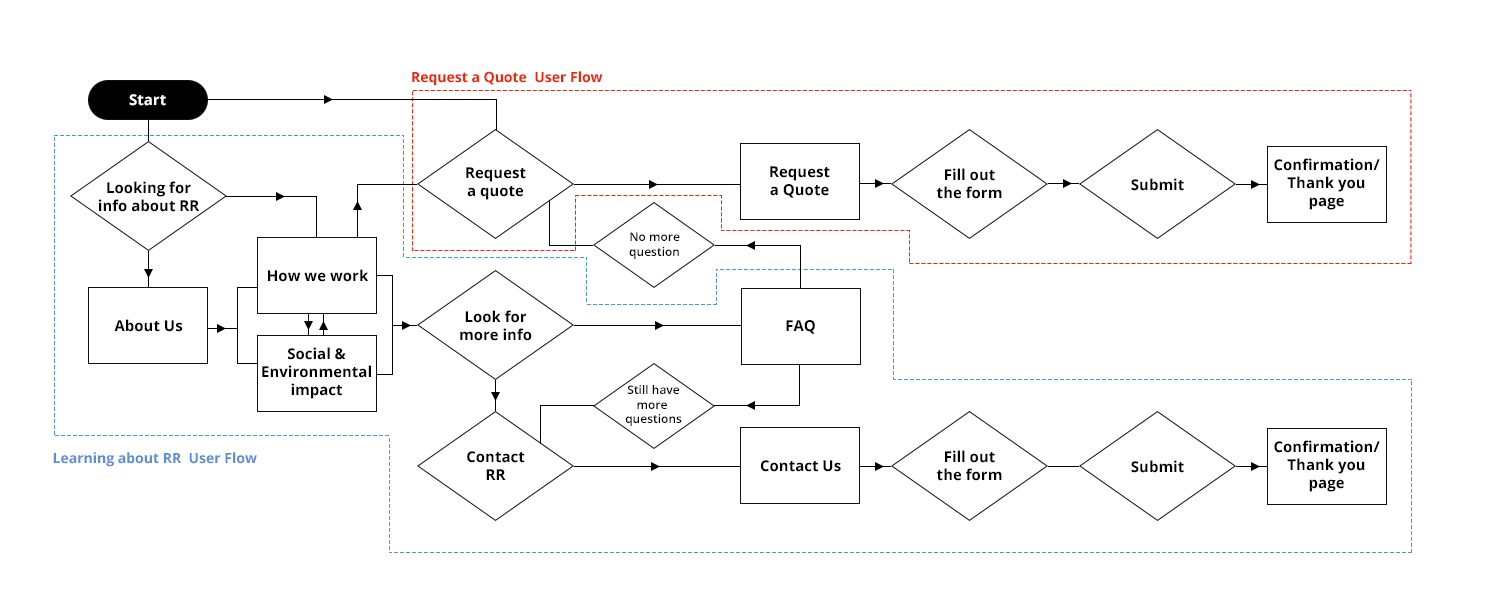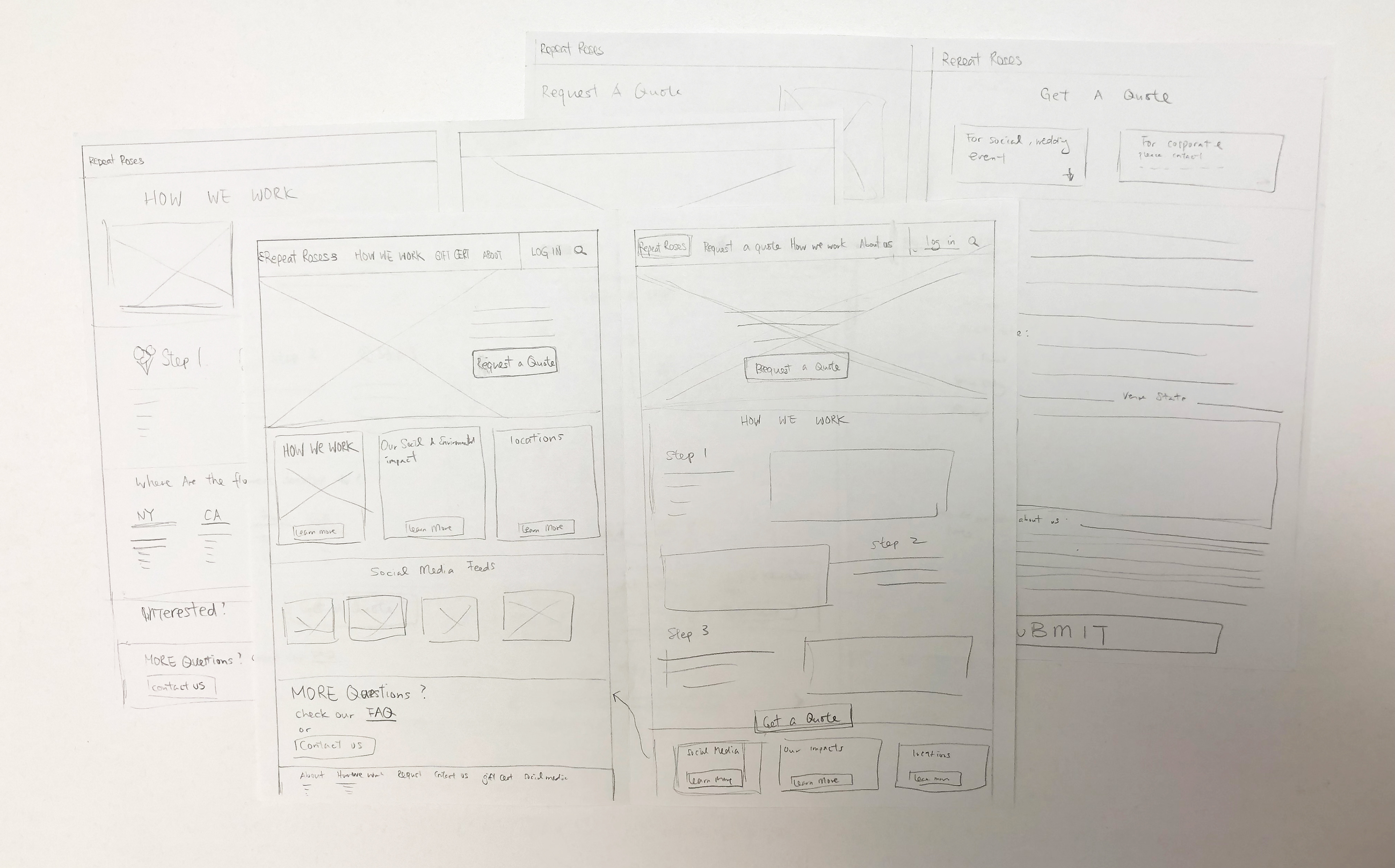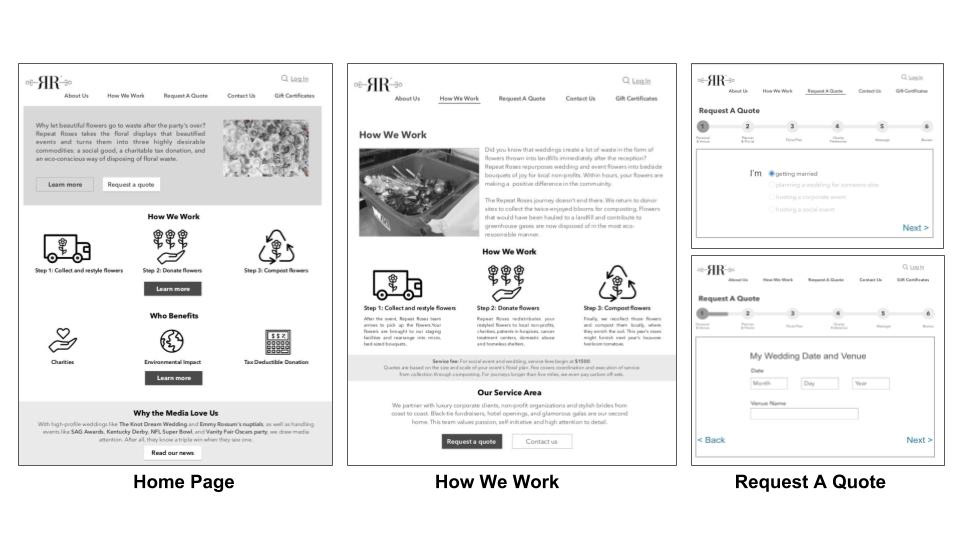 User Testing & Iteration
We tested a total of 4 users (3 brides and 1 groom) on our new design.
Test the user experience for the following critical flows: 
1. Learn about the service - how the service works, social/environmental impact, tax benefits, service fee
2. Request a quote
3. Contact Repeat Roses


Key Findings
The users overall responded positively to the prototype. They found the prototype easy to use and felt as though the site was very informative but lacked personality. Also most of the users were still unclear about the service fee and tax deduction.
1. Most found the new design easy to use, find information, and navigate.
2. Most found the content appropriate and to the point.
3. Most could not successfully locate tax benefit info.
4. Most thought service fee was more visible compared to current design, but was still less prominent.
5. Some were not clear on what to input for the floral plan on Request a quote page.
6. Some felt the site needed more images.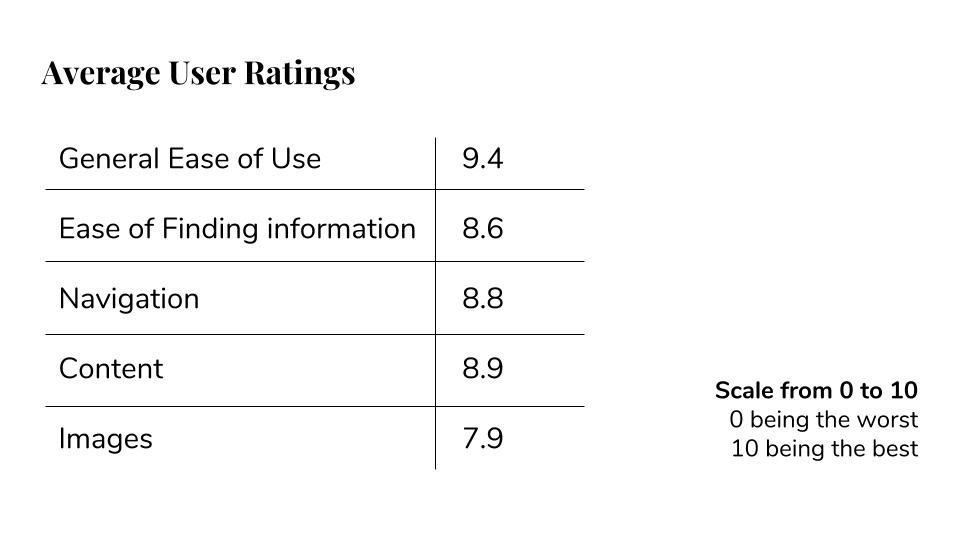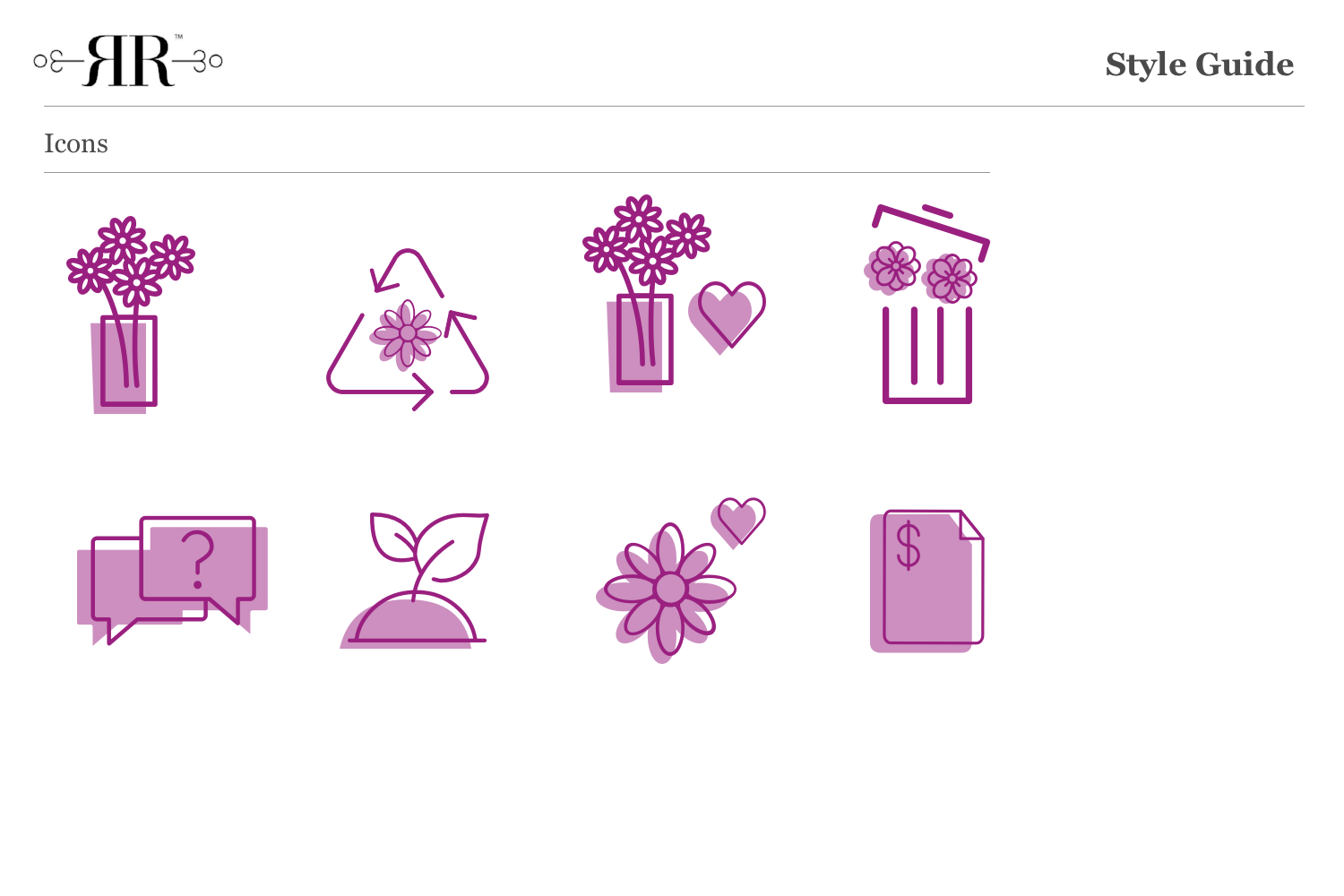 High Fidelity Prototype & Solution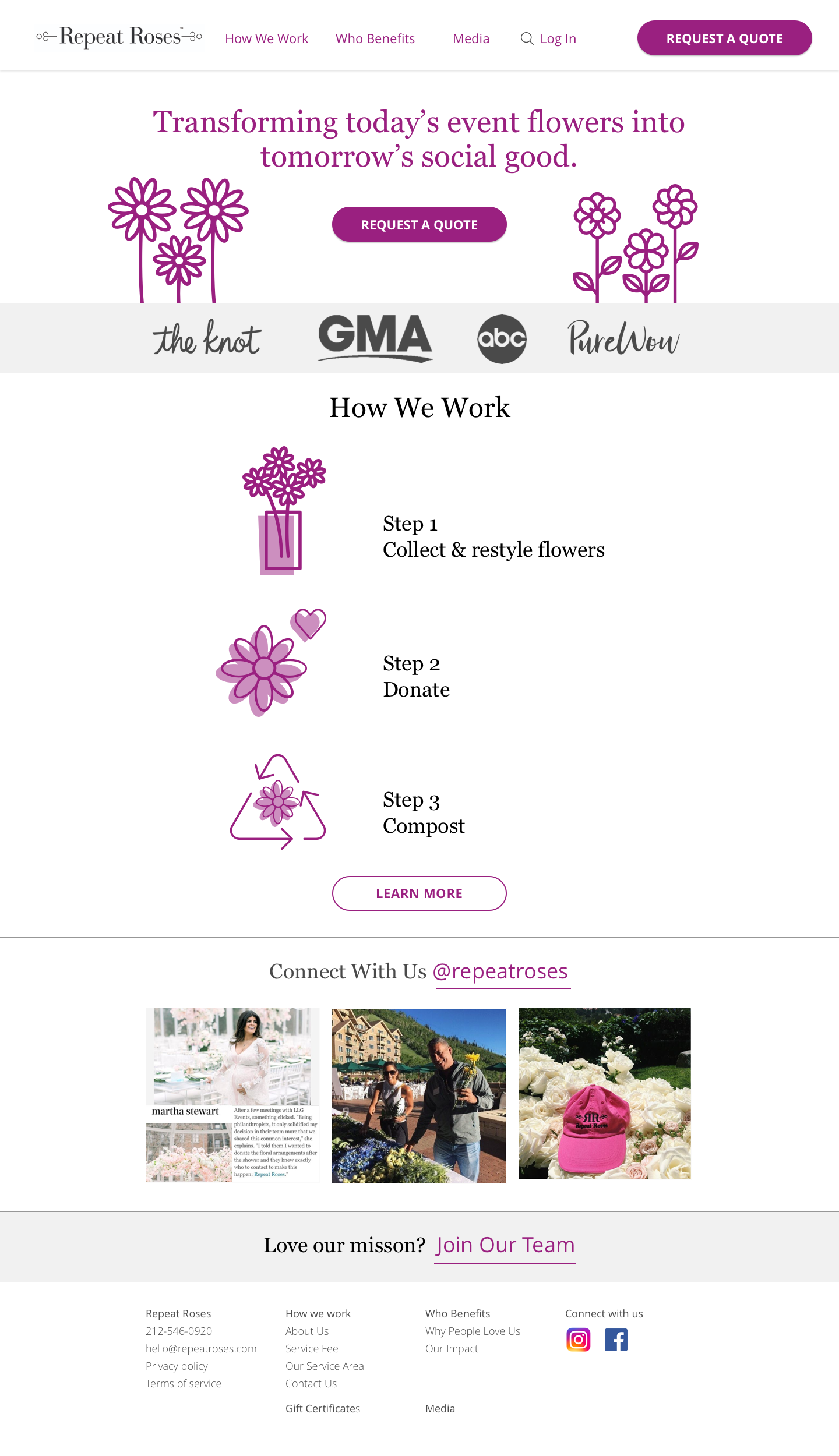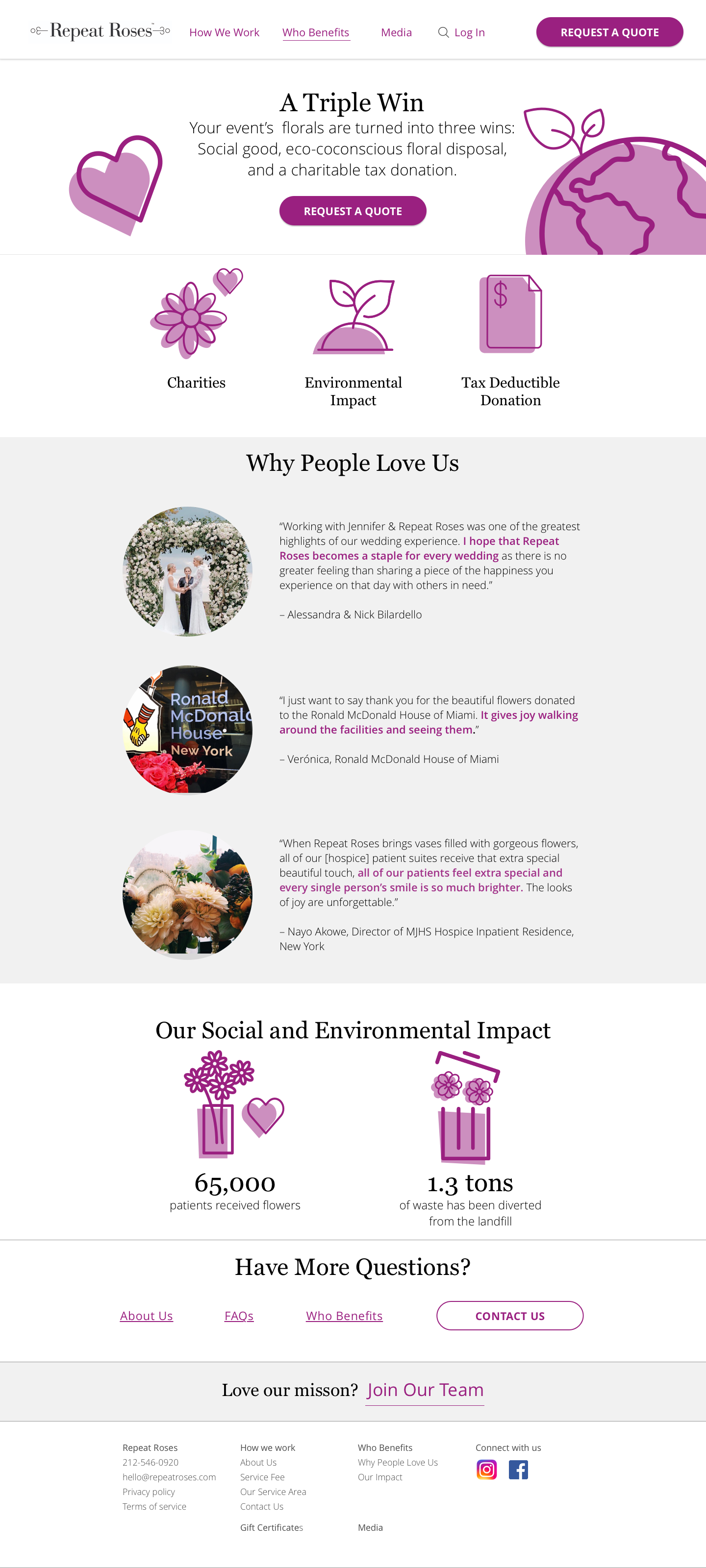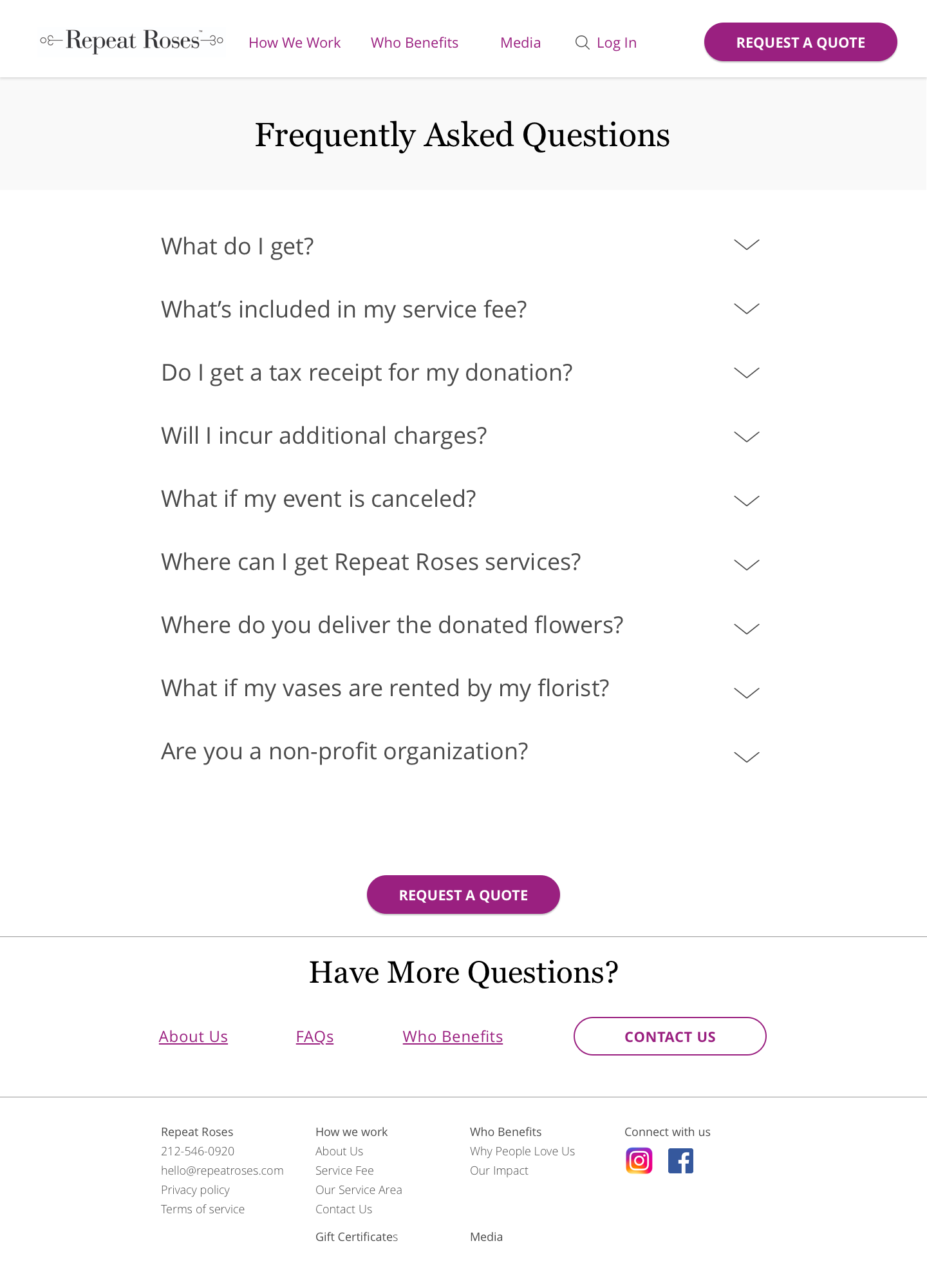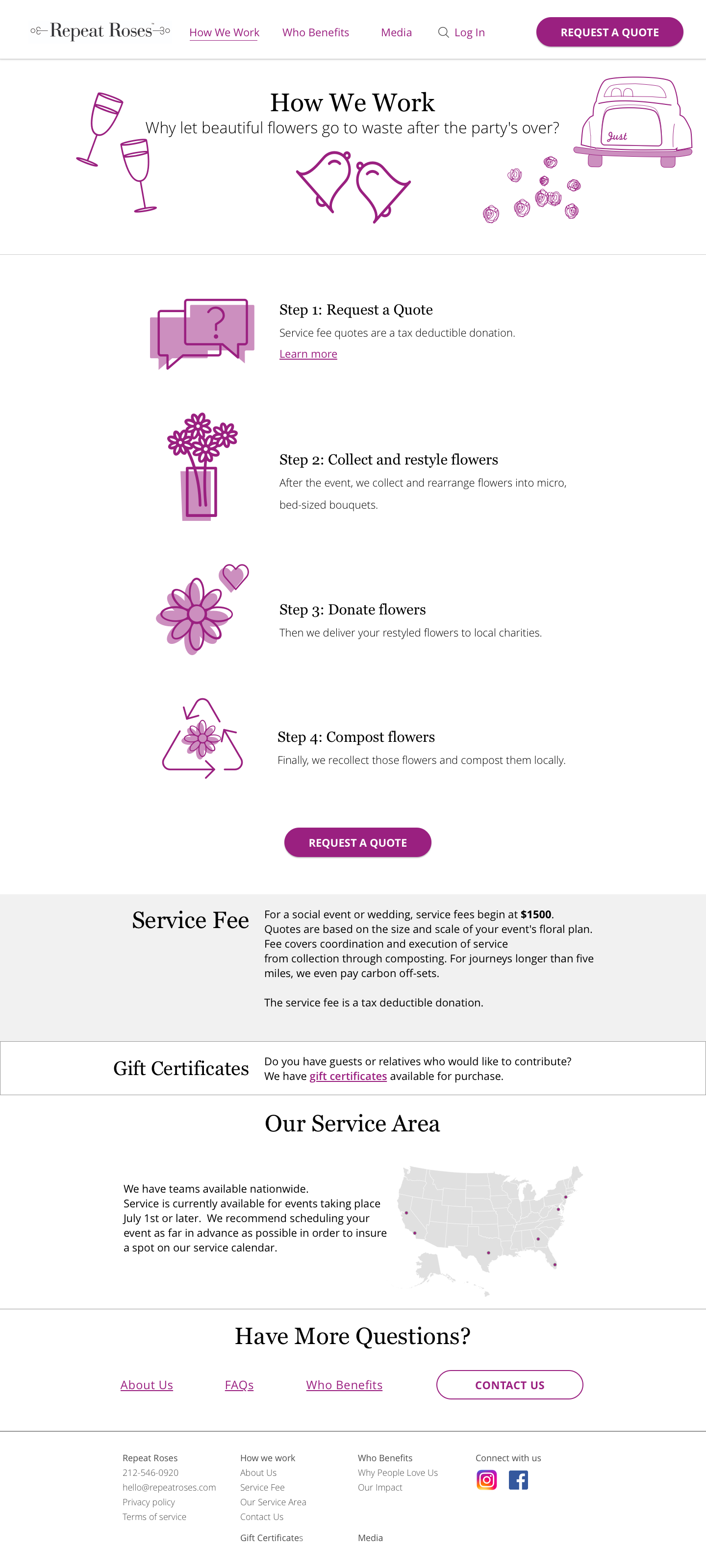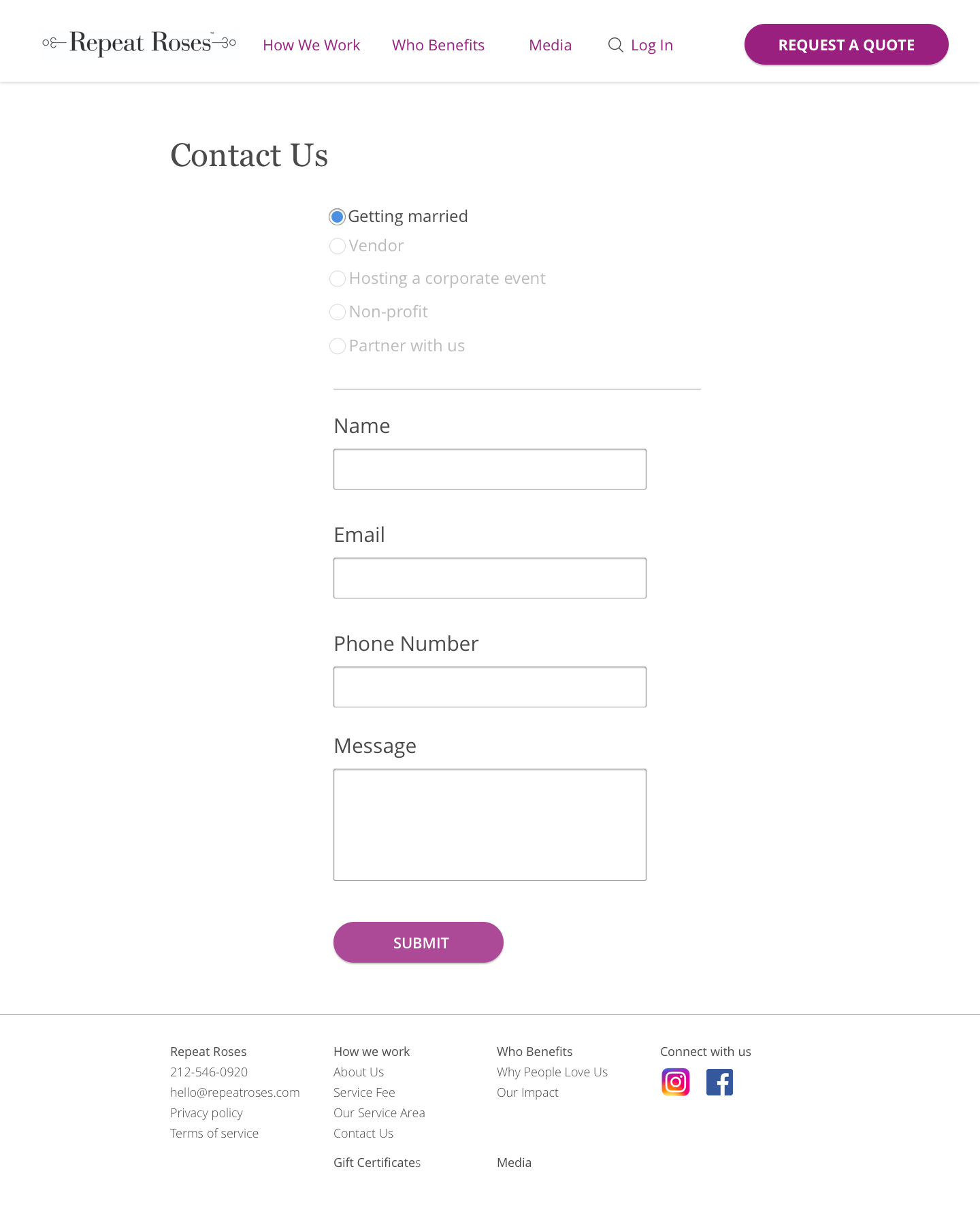 Request a quote process
We also pay a lot of attention on the process of requesting a quote to ensure that it is easy and painless for the users to fill out a form which can be long and tedious.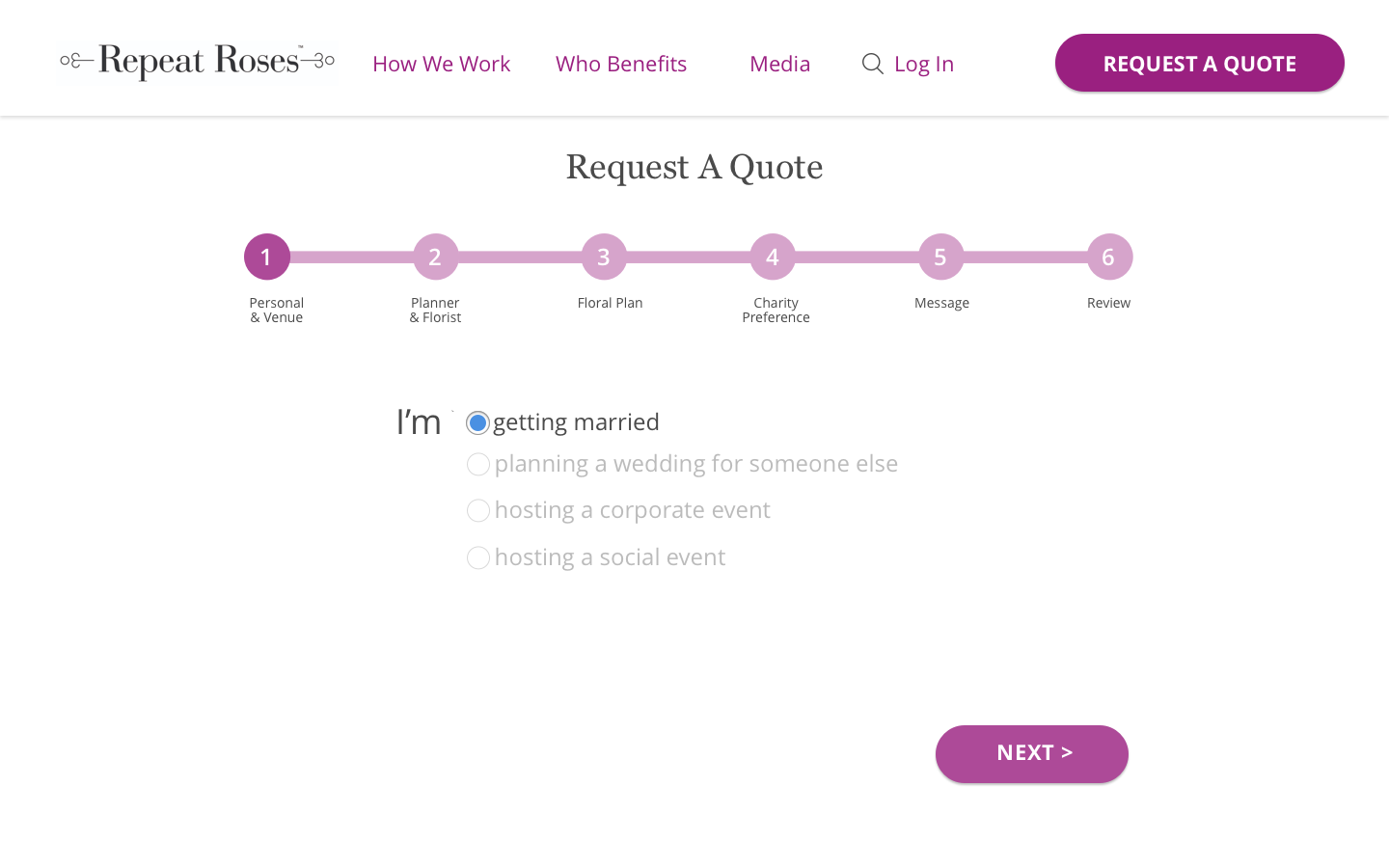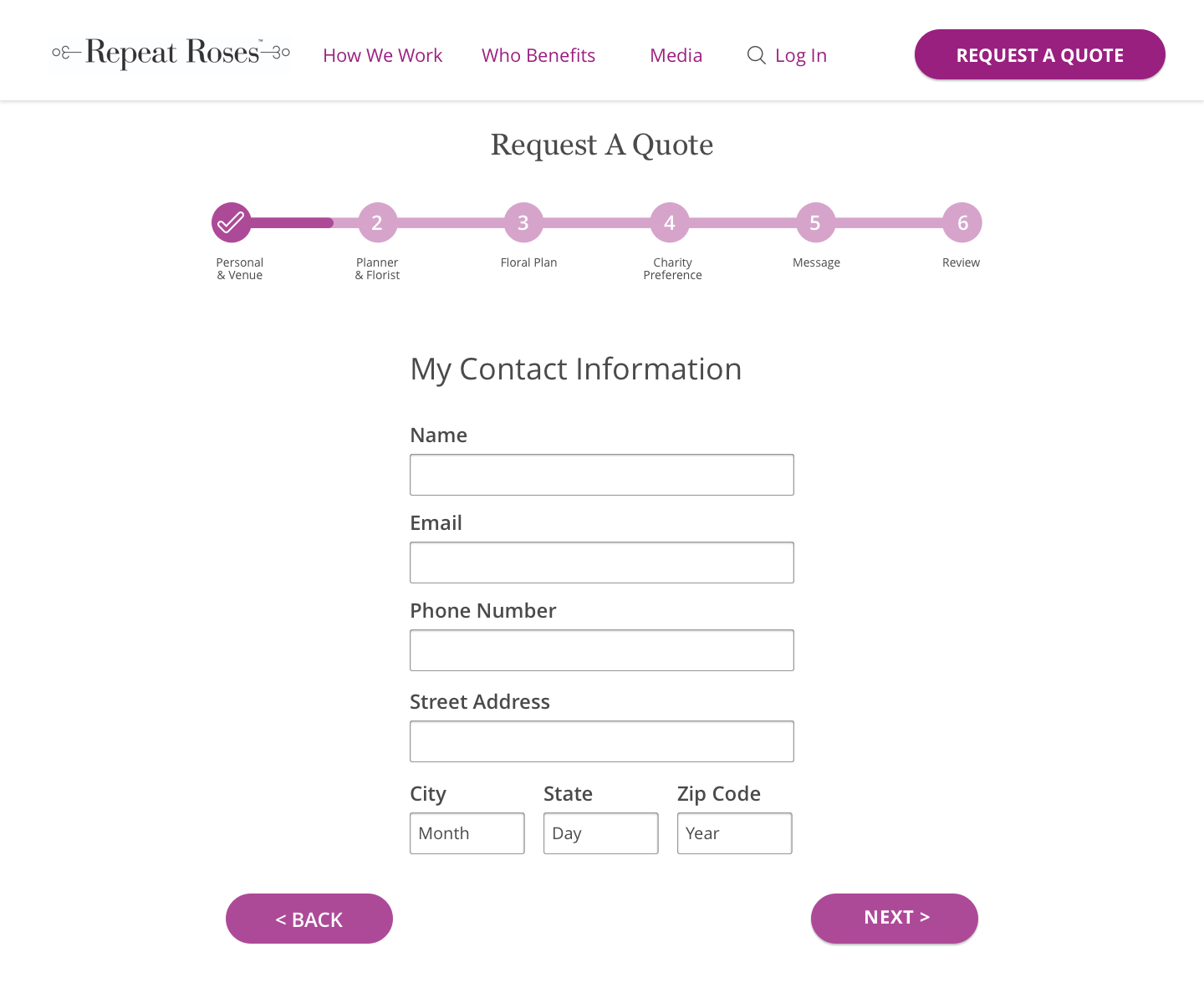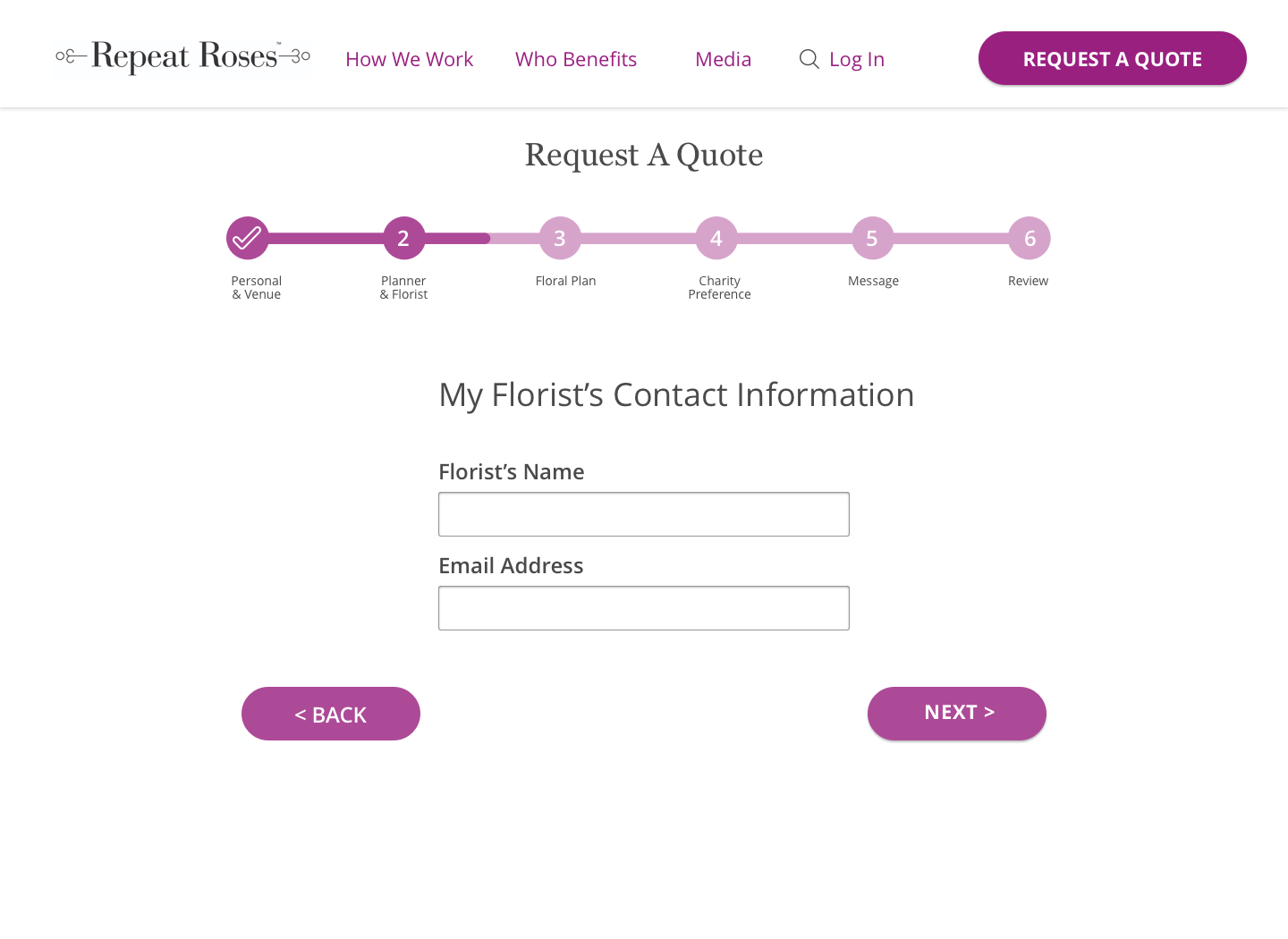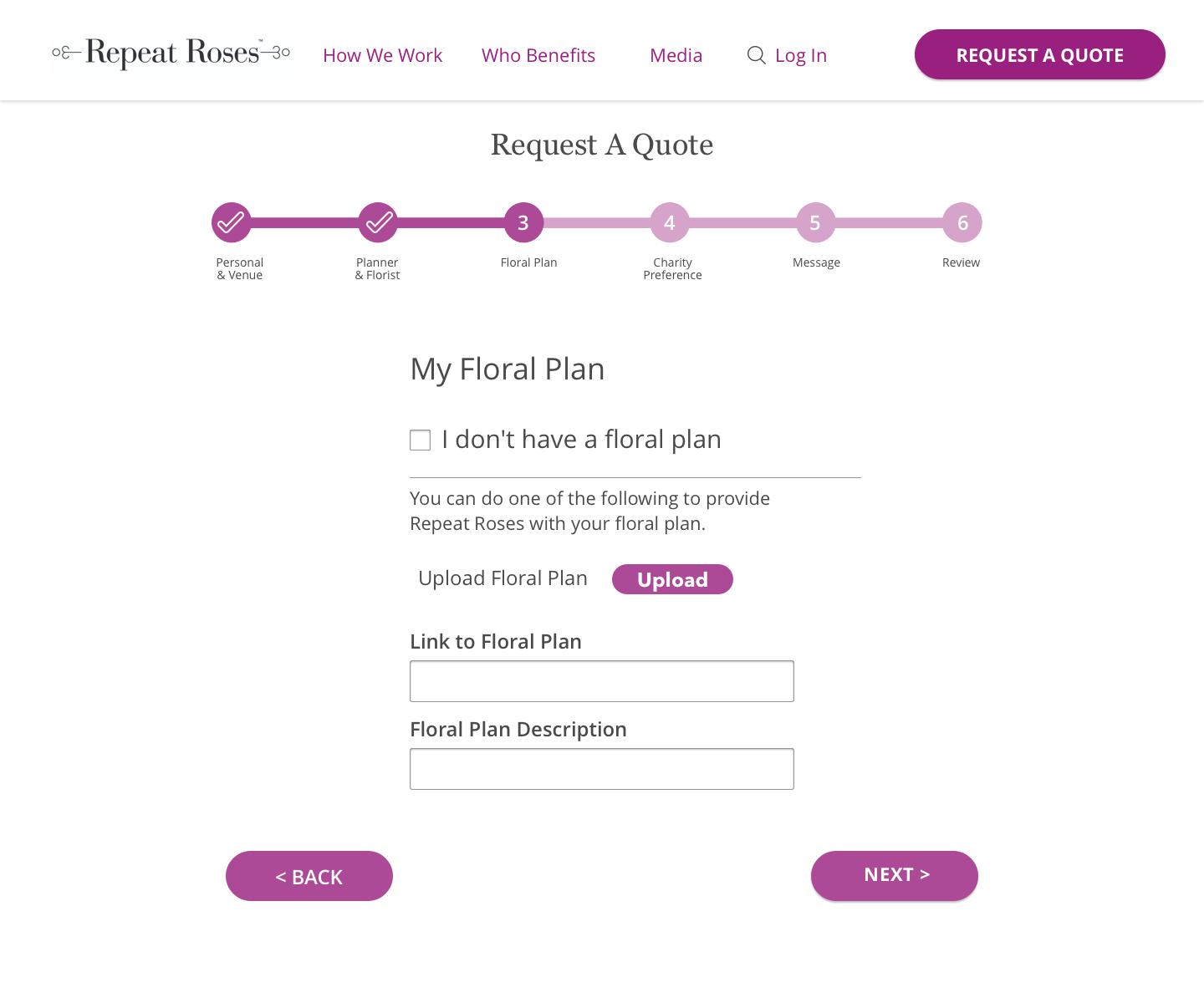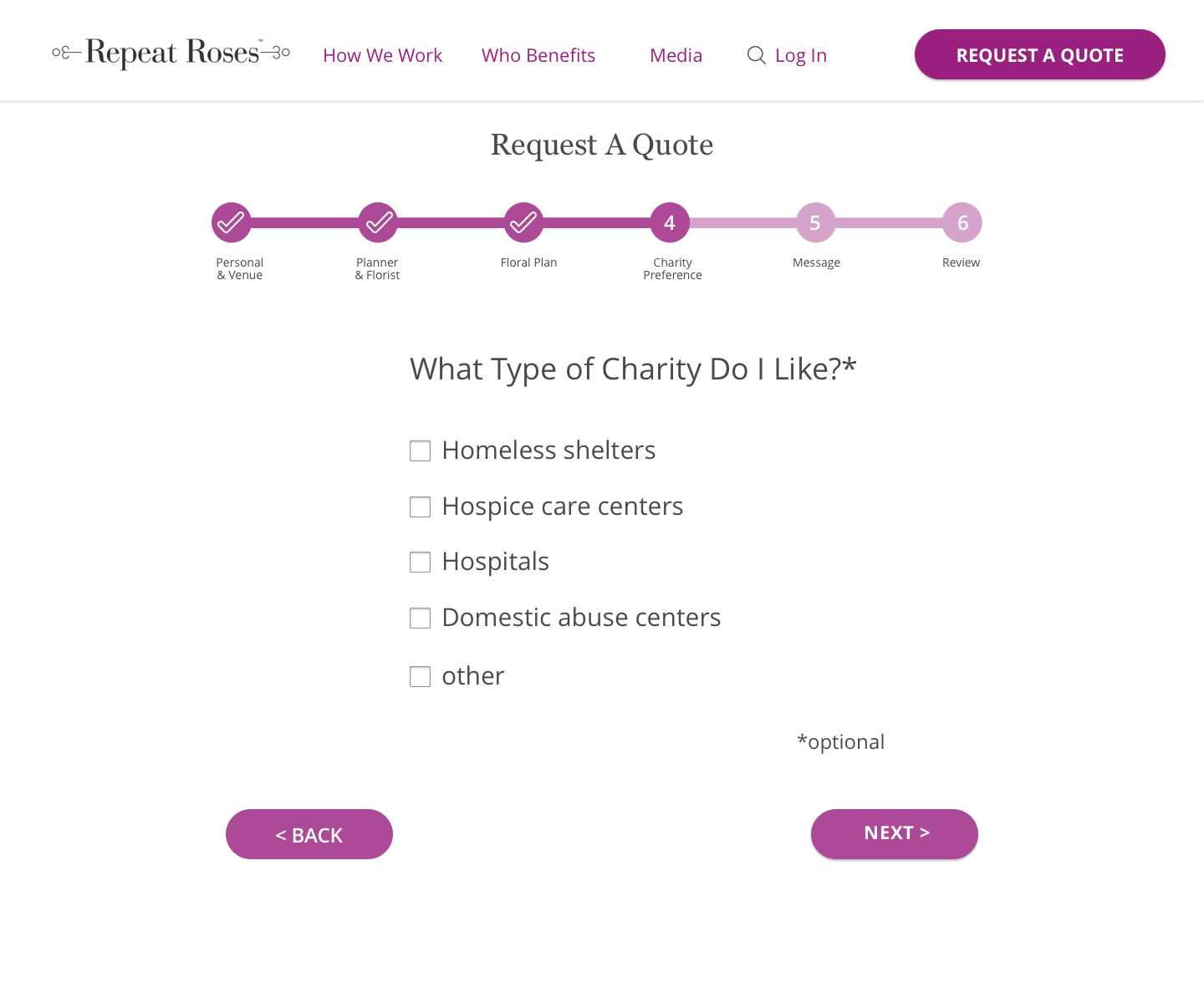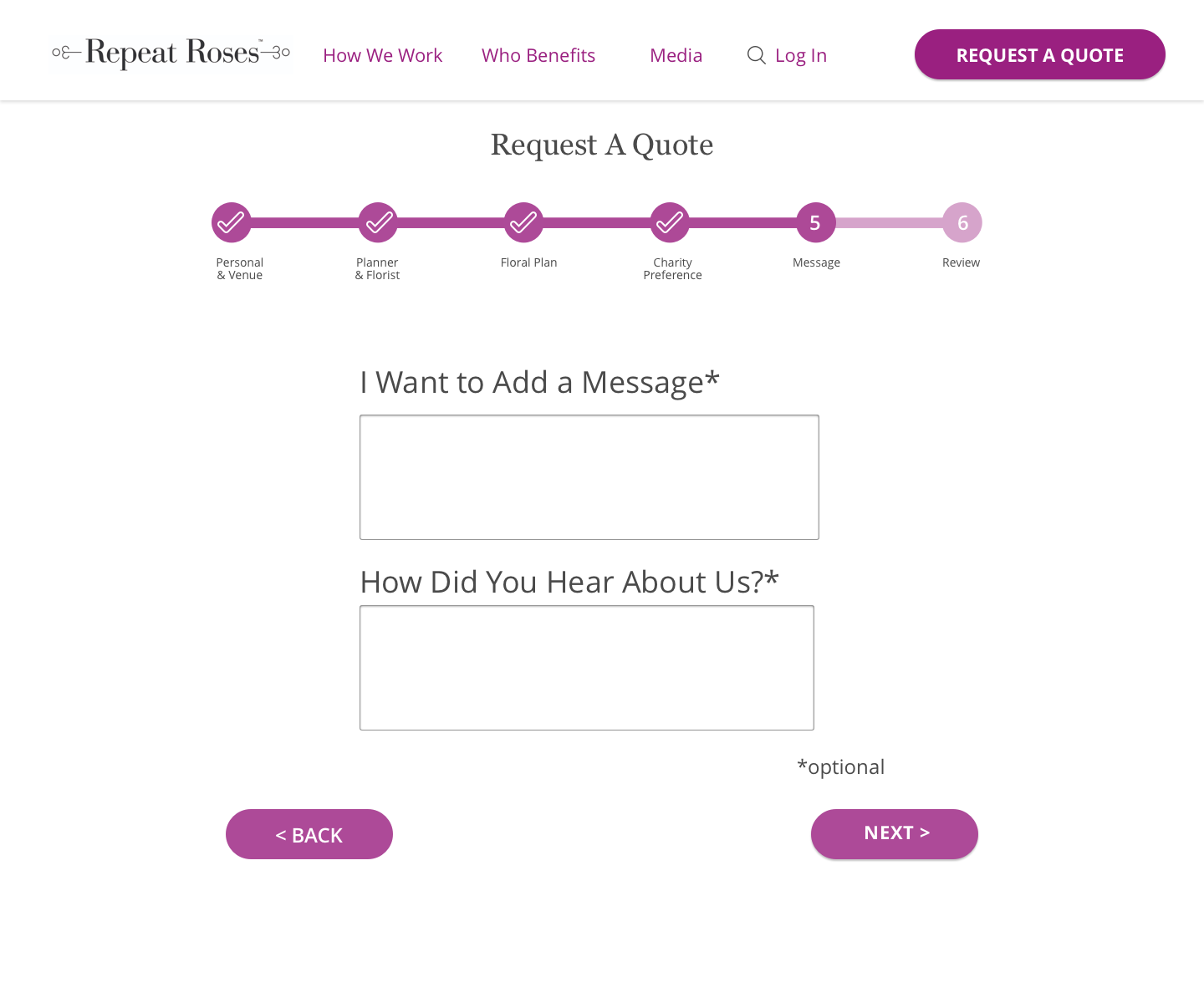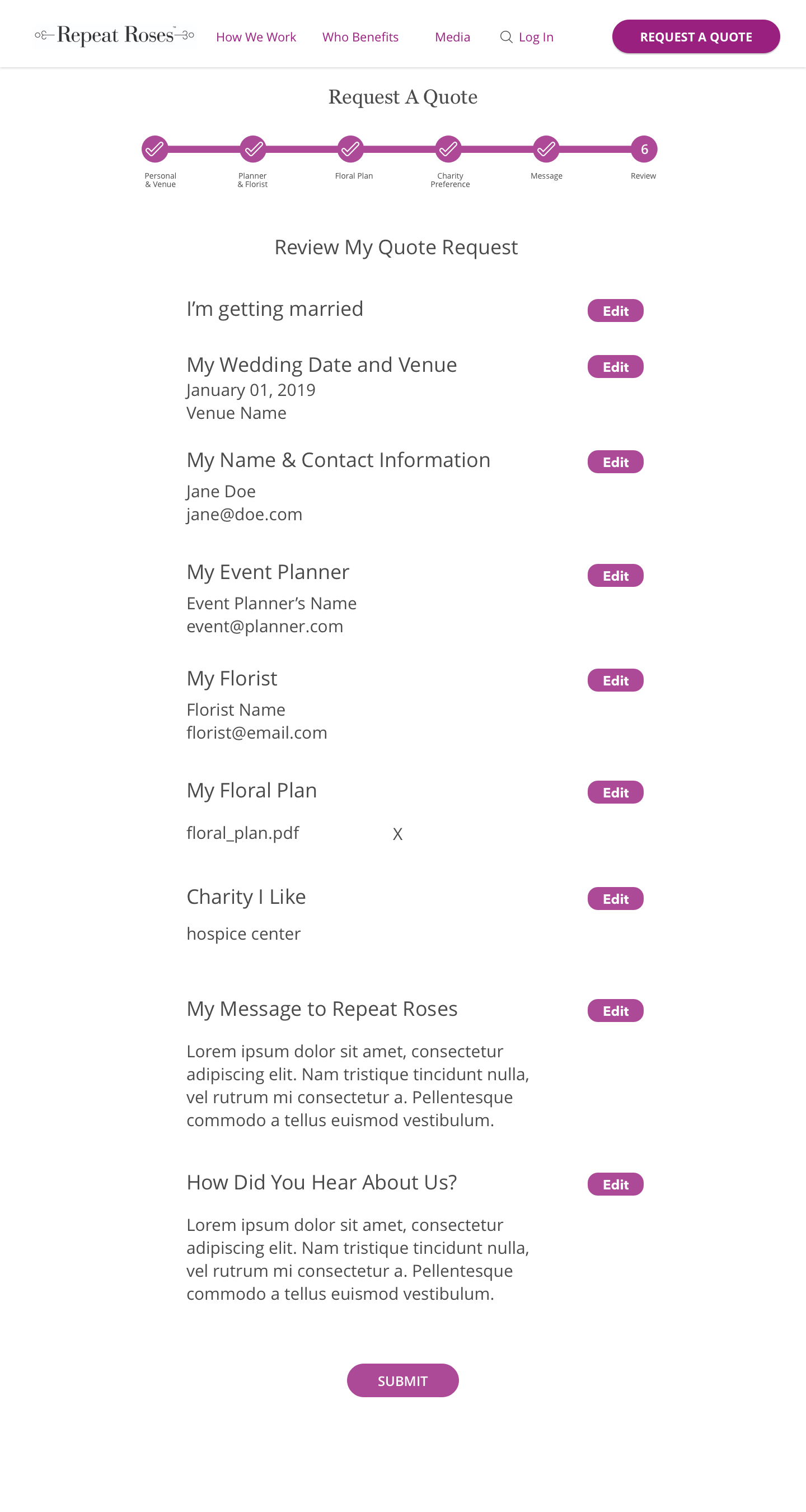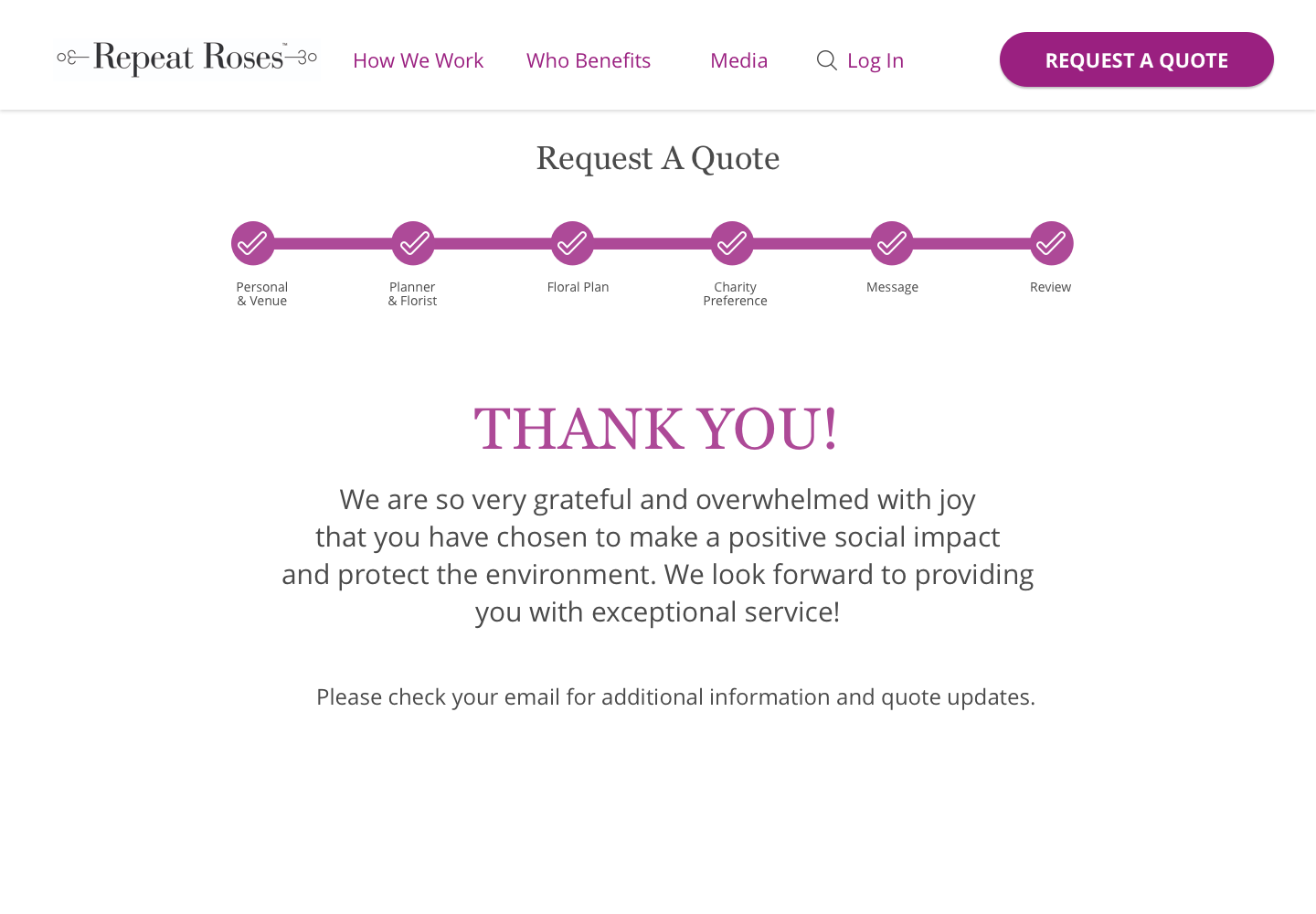 Client reactions
Our client Jennifer was pleased overall with our research and solution and she thinks she will implement some of our design solutions to her website. However, she was a bit comprehensive about taking away too many images that represents the story of Repeat Roses, which is an important component for its storytelling.


1. A/B testing with the current design vs new design to determine usability and conversion improvement.
2. Find the right balance of content to maintain the branding and communicate efficiently.
3. Integrate with the design for post-quote process.
4. Additional focus on the budget-conscious bride persona.
5. Development hand-off.


Challenges I encountered from this project
1. Recruiting and finding suitable users and time to interview and test the website. We need to identify the right candidates and confirm it with our client.
2. Time constraint: I would like to take more time on the style guide and create a cohesive design system. I also think that more testing and research are needed to create a better user experience and find a better communication style for the company.
3. Storytelling: How to effectively and accurately report our research process, finding, and solution.
Takeaway
From this project, I have learned so many things.
1) I learned how to work and collaborate as a team.
2) I also learned how important it is to communicate with the stakeholders. Trying to understand their needs and align it with the users' needs is harder than I thought.
3) Communicating service vs. communicating mission. Different business models have different solutions and needs. There is no one size fit all solution. It is very important to understand the nature of the business and what the service/ products is in order to design the solution.