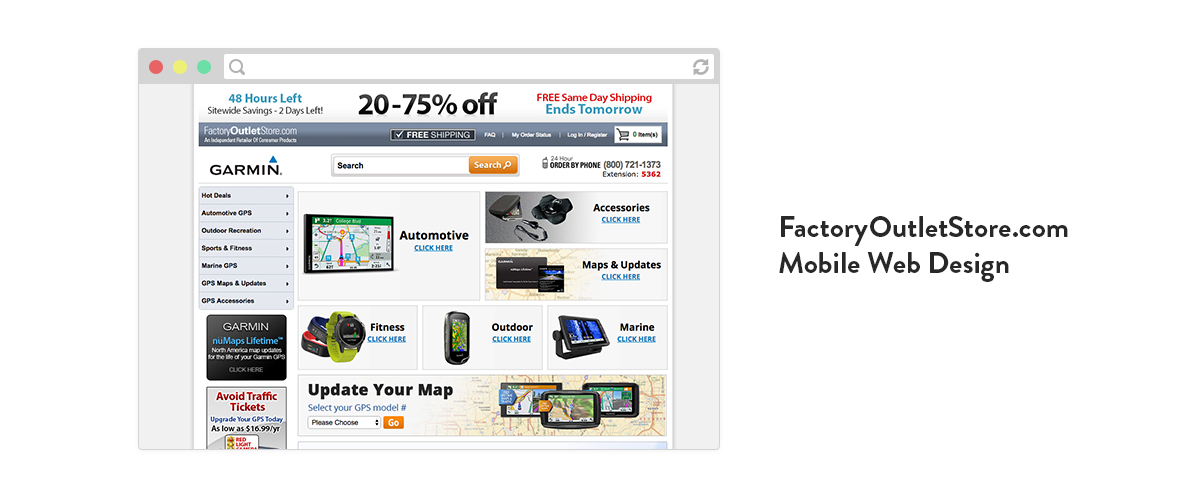 Team:
 Cross-functional teams of GogoTech
Tools:
Adobe Photoshop, XD, and Invision
Overview
FactoryOutletStore is a consumer electronics retail website dedicated to top brand-name manufacturers and specializes in the categories of GPS, home/office phones, personal care, pet products, etc. 
Problems 
The conversion rate on mobile device has not improved since the redesign of mobile site. Although the mobile site is optimized through improved visual design and technology, for some reasons the conversion rate remains flat. As people are becoming more comfortable to shop online on their mobile phone, figuring out what stops people from buying and improving the user experience of our mobile website is extremely important in order to stay competitive.
1) Improve conversion rate
2) Increase engagement rate on mobile site. 
Research:
 Stakeholder interview, competitive Analysis, content audit, and usability test on current website
Analysis:
Flow chart, Personas, Journey mapping
Design & Ideation:
Sketches, low-fidelity wireframes, and high-fidelity wireframes.
Validation:
Prototyping and user-testing
Research
In the beginning of this project, I wanted to make sure that I understand the principles and best practices of designing e-commerce website on mobile devices. I searched and read many articles from credible websites to learn established the best design practices

Next, I wanted to understand the pain points of our customers and our stakeholders in order to understand and solve the problems holistically. I interviewed the brand managers and the director of customers service. And here are what I found:

Who are our customers: 
1. Our customers know what they want when they visit the store. Most of them come from Google, PLA, search keyword.
2. We have less success with searching customers.
3. The suggested items on our websites are not converting.
What do complain about?
1. Buyers mislist something. Errors on the information.
2. Not much complaint from the usage of the website.
3. Order tracking/ Returning order
So why are we not doing better?