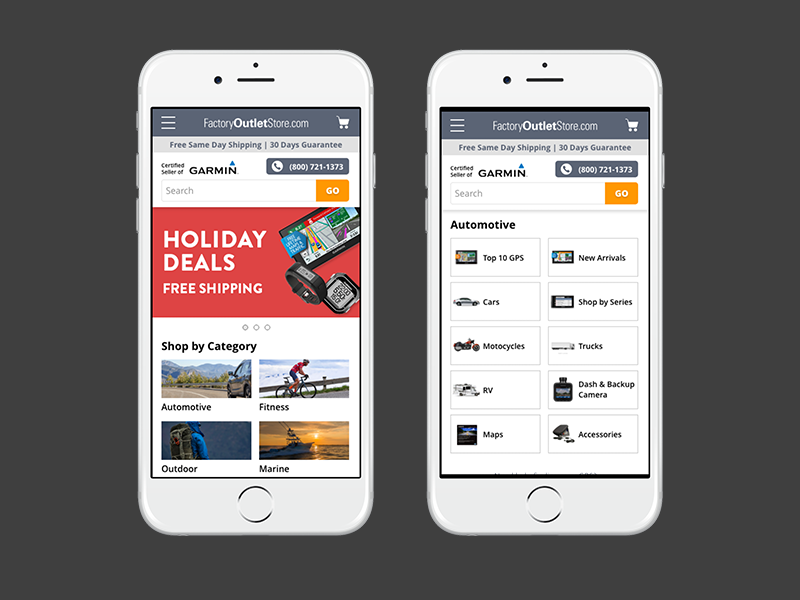 Client:
FactoryOutletStore.com
My role:
 UX/UI Designer 
Team:
 Cross-functional teams of GogoTech
Tools:
Adobe Photoshop, XD, and Invision
Duration:
Ongoing
​​​​​​Background
FactoryOutletStore is a consumer electronics retail website dedicated to top brand-name manufacturers and specializes in the categories of GPS, home/office phones, personal care, pet products, etc. 
Problems 
1. Conversion rate has been flat even after the improvement made on mobile web design and development.
2. Most people purchase products on desktop.
3. People are concerned about financial information being hacked when using a mobile phone.
4. Lack of confidence in online shopping (Quality, return policy, customer service...etc)
5. Amazon (Every e-commerce business's enemy)
Goals
1) Improve conversion rate
2) Increase engagement rate on mobile site. 
Process
Research:
Stakeholder interview, competitive Analysis, content audit, heuristic analysis, usability test on current website
Analysis:
Flow chart, Personas, Journey mapping
Design & Ideation:
Sketches, low-fidelity wireframes, and high-fidelity wireframes.
Validation:
Prototyping and user-testing
User Research
In the beginning of this project, I wanted to make sure that I understand the principles and best practices of designing e-commerce website on mobile devices. I searched and read many articles from credible websites to learn established the best design practices
Next, I wanted to understand the pain points of our customers and our stakeholders in order to understand and solve the problems holistically. I interviewed the brand managers and the director of customers service. And here are what I found:
1. Our customers know what they want when they visit the store. Most of them come from Google, PLA, and search keyword.
2. We have less success with customers who are not sure what to buy.
3. The suggested items on our websites are not converting.
What do they complain about?
1. Buyers mislist something. Errors on the information.
2. Not much complaint on the usage of the website.
3. Order tracking/ Returning order
Our customers are NOT our target users
The reasons why the conversion rate is not improving because our website is not designed to let customers shop more. We are not getting new customers.
Most of our customers know what they want. They just come to buy what they want to buy and leave without buying anything extra.
But what about other types of customers? If we want to increase the conversion rate, we need to design a website that also help our potential customers to look and shop more.
Knowing ourselves
While we all know every business is different, it is important to know what your competitors are doing successfully and understand what we can do better. I did a competitive analysis, heuristic analysis, and one usability test on our current websites to analyze how our website doing in terms of user experience.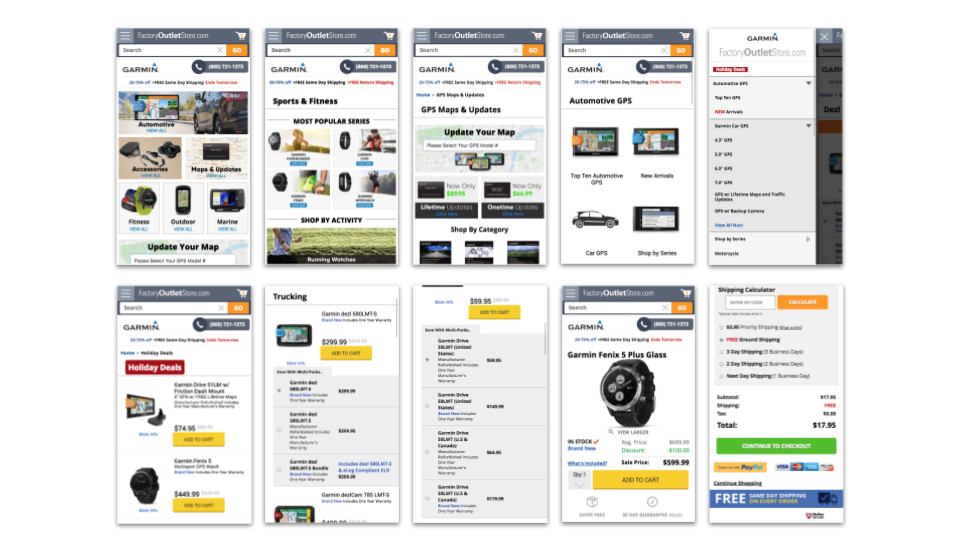 After analyzing the results of competitive analysis, heuristic analysis, and usability test, I discovered that one major problem we have besides the technical usability issues, is trust. The lack of reviews, bad and inconsistent UI, generic content, and horrible user experience are the reasons why we are not able to gain trusts from our potential customers, hence no sale.
So what's should we do?
We need to establish trust with our customers by providing great user experience.
1. Declutter
2. Design a Style Guide for mobile for better UI and consistency
3. Add reviews function: Need to develop a solution to encourage customers to leave reviews. This is one of the most important feature to help building trust with customers and encourage them to buy.
4. Add filter function, delete button in the shopping cart, stop sending users to shopping cart, and stop upselling Warranty through pop up.
5. Content/ Copy audit. Customize the copy and keywords for scannability. Most users don't want to read, especially on a mobile phone.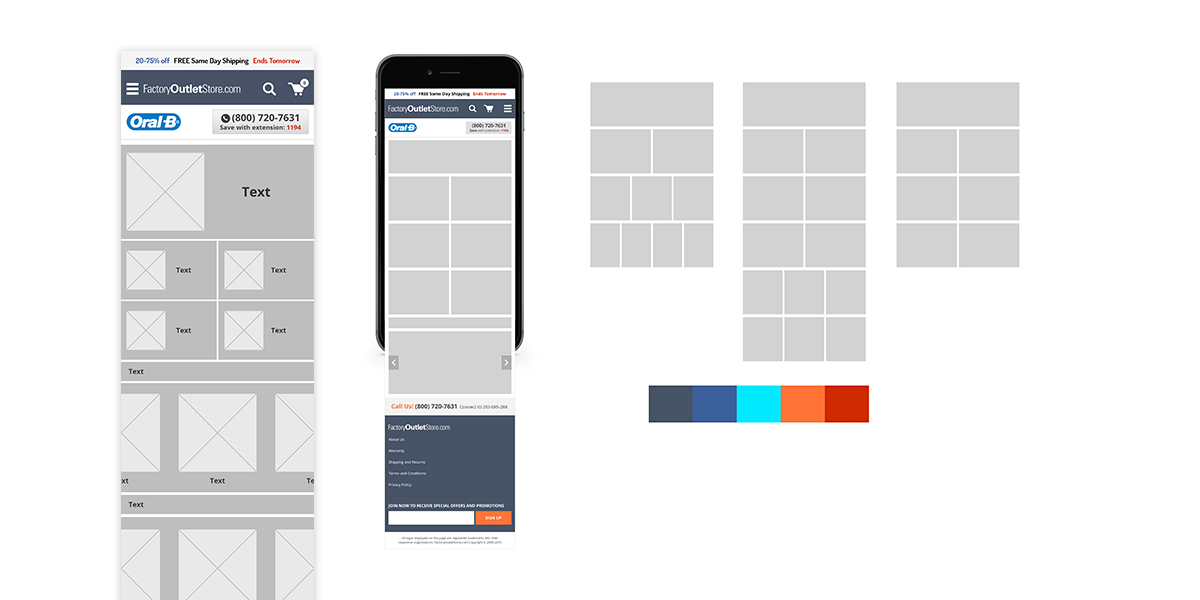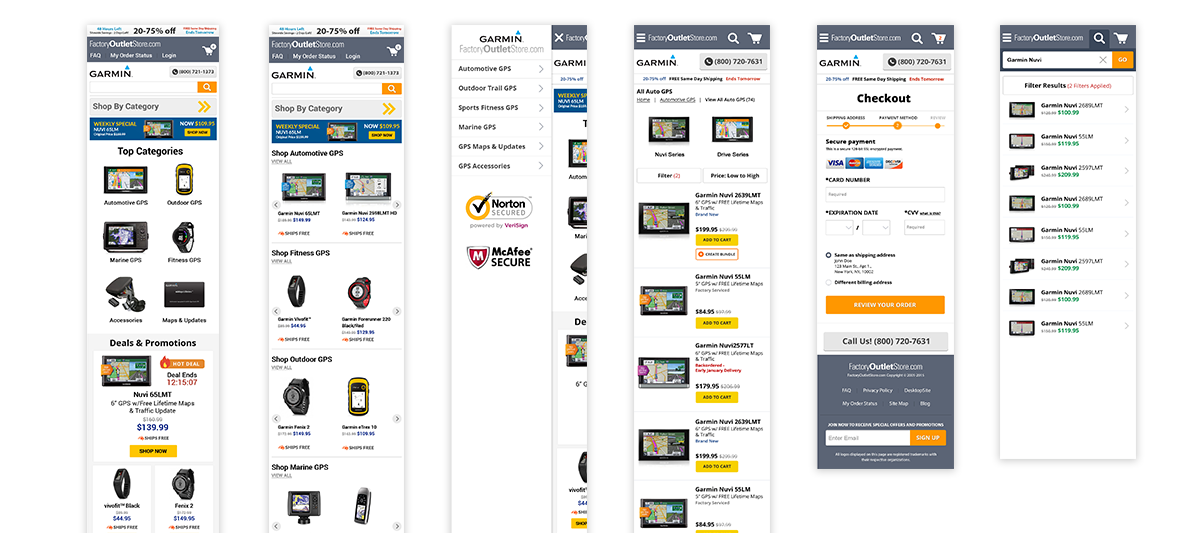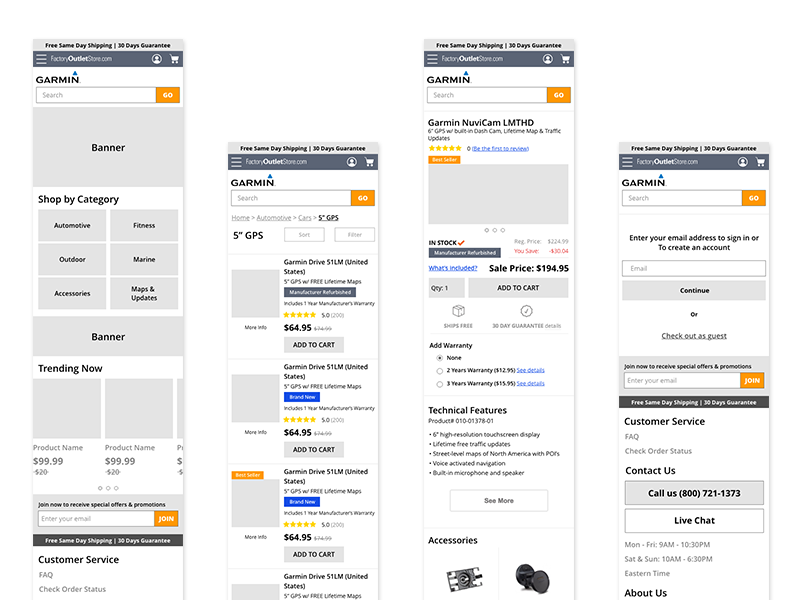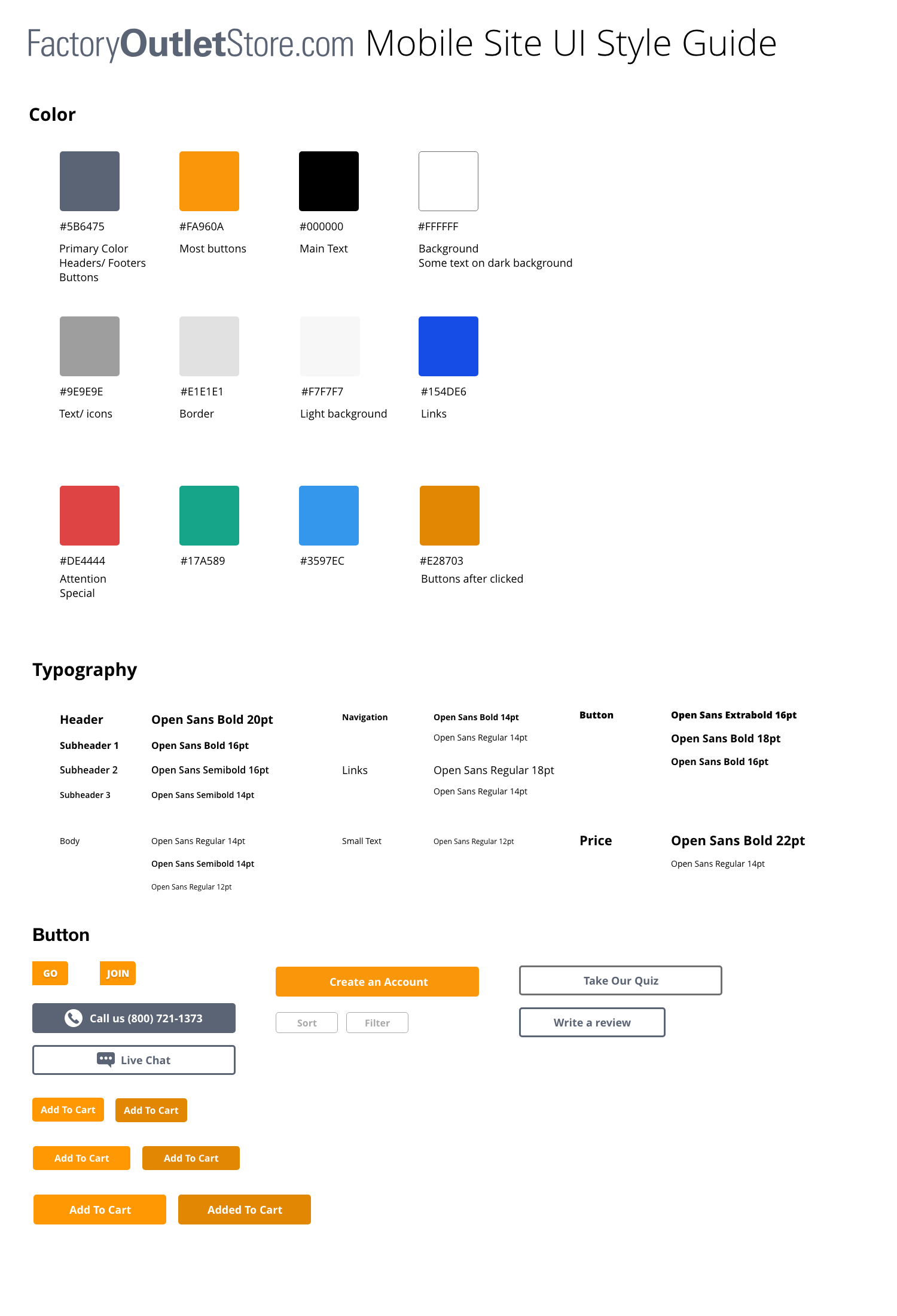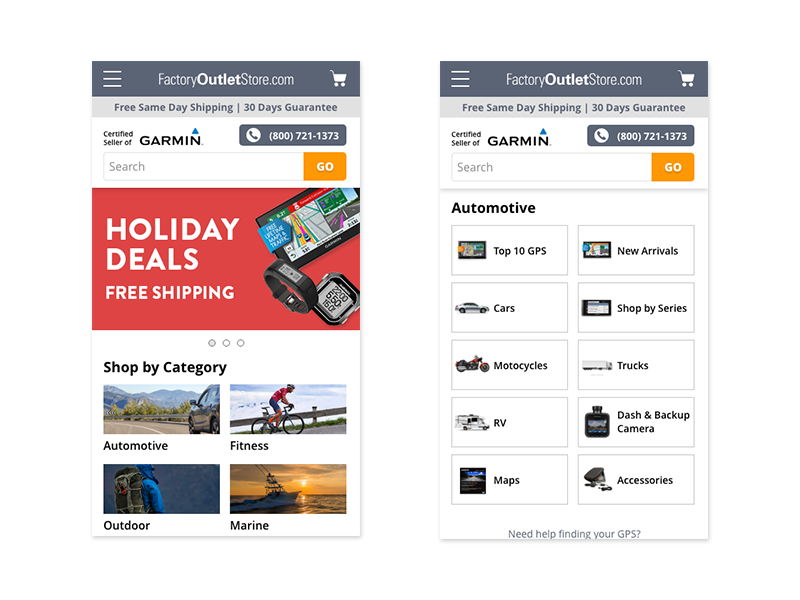 In the new designs, I want to make sure that the website gives a good first impression. That means good amount of white space, visual hierarchy, and design consistency. Second is to help customers find the right products by simply adding sort/ filter function. Third is to prompt users to create an account or sign in.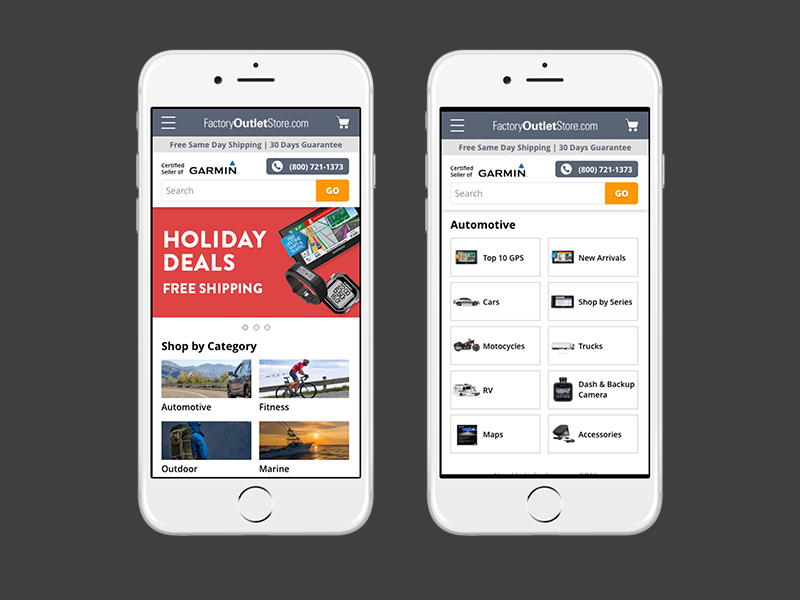 What's Next?
Implementing the new design, collect data and feedback from our users, and iterate accordingly. Work with other teams to establish best practices and build a websites that users can trust and shop easily.